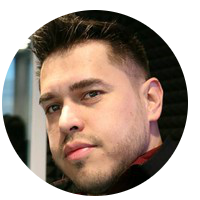 WES
MORA
Since when did visibility become a privilege that's offered to only a select few? We should all be so fortunate.
Skills
Wordpress

Photoshop

Adobe Premiere




HTML

CSS

JAVASCRIPT

PHP

Blogger
Portfolio Projects
Education
>
University of Utah
Full-Stack Web Development Bootcamp
Completed a 24-week professional training certification course focused on the skills needed to build fully responsive end to end web applications. The program included over 500 hours of professional development and hands-on exprience.

The program focused on:

• Programming Fundamentals
• Product Development Basics
• Front-End Web Development Using HTML5, CSS3, Javascript, Bootstrap, AJAX, various JS libraries
• Back-end Development Using APIs, PHP, NODE.js, Express.js, MySQL, MongoDB
• Database Theory
• Command Line, Git

Salt Lake Community College
Web Design Bootcamp
In the process of completing a 23-week professional training certification course focused on the skills needed to design and build web applications. The program includes hundreds of hours of professional development and hands-on practice.

Program focus:

• Adobe Photoshop Creative Cloud
• Front-End Web Development Using Photoshop, HTML, CSS, Javascript, Bootstrap
• Back-end Development In PHP
• Capstone Project And Showcase
• Internship Designing For Local Business Partners



Career Highlights
Web Development
Developed front­end web applications using HTML/CSS and JavaScript.
Used GitHub best practices to control the source of coding projects and managed versions of software during development.

Experience using PHP, Bootstrap, and other front­end and back­end technologies.
Learned multiple languages and design programs centered around web development.
Created website content, design, and updated web page content.
Marketing
Partnered with the marketing department to continually perfect client advertising campaigns.

Developed programs with the marketing department for clients, and effectively execute marketing programs.
Collaborated with sister company Real Media to implement new company direction regarding branding.

Met regularly with department heads to brainstorm result driven ideas.
Content Creation
Wrote stories, shot & edited footage, managed online web content as well as social media content.
Hosted and produced a daily radio program talking about pop culture, local stories, and life.

Coordinated, planned and conducted live interviews with local leadership and community personnel for on­air radio content.

Applied audio production skills to creatively utilize all aspects of digital audio editing and creation to design client radio marketing ads.
Commitment to Projects
Produced over 500 events in a calendar year with a team of 10 executing live radio broadcasts, recording artist showcase performances, and large convention events.

Adept at working in a fast paced, deadline oriented, collaborative environment.

Motivated sales managers and assisted in the development of promotions for clients that effectively helped grow brand awareness.
Past Employment
Radio Host & Content Creator | Broadway Media | Salt Lake City | Feb 2015 ­ Dec 2018
Audio Engineer | Instore Audio Network | Salt Lake City | May 2005 – Dec 2014
Production Director | Alpha Media USA | Salt Lake City | October 2015 ­ June 2016
Brand Manager & Director of Promotions | iHeartMedia | SLC | Nov 2011 ­ Dec 2013
Morning Show Radio Host | Simmons Media | Salt Lake City | May 2010 ­ August 2011
About Me
I'm a creator at heart, I love to work on new ideas and bring them to life. I'd say that I've been a problem solver all my career. I've learn more efficient ways of fixing the same problem because I've had to deal with many of the same problems over and over. But also have had to work on many new problems to fix as well.

I've worked as a radio broadcaster for over a decade - hosting shows, producing digital content, as well as interviewing celebrities, influencers and local leaders on various topics. I'm passionite about life and the challenges that come with it. for the last year I've been working on becoming a better rounded professional in the media world.

How can I help you? Reach out to me and let's chat.

- Wes Mora